FREE SHIPPING ON STANDARD ORDERS $15+
Men's Candle Gift Set
Est. Standard Delivery Before October 05

Regular price
$0.00
Sale price
$29.99
Unit price
per
Sale
Sold out
Want to give a special man the perfect gift? Our Men's Candle Gift Set is handcrafted with 8 unique themes for an unforgettable gift. Light up any room and give an original and thoughtful gift - select one or all of the 8 styles! You can also design your own!
🟥 Tobacco
🟧 Past Times
🟨 Drinking Buddies
🟩 Funny Foods
🟦 For Dads
🟪 Unique
🟫 Cologne
⬛️ Outdoorsy
🔳 Build Your Own
Tobacco
🟥 Cuban Cigar Tobacco, Cherry, Clove
🟥 Havana Spicy Citrus, Tobacco, Musk
🟥 Old World Cigar Resin, Leather, Tobacco
🟥 Pocket Aces Cigar Tobacco, Vanilla
Past Times
🟧 Kind Buds Cannabis Flower
🟧 Root Beer Root Beer, Ice Cream
🟧 Saturday Cartoons Fruity Loop Cereal
🟧 Video Store Popcorn, Carpet, VHS
Drinking Buddies
🟨 Dive Bar Peach Bourbon
🟨 Hipster Bourbon Coconut Bourbon
🟨 Kentucky Wild Bourbon Oak Barrel Bourbon
🟨 Scotch Whiskey Scotch, Oak, Vanilla
Funny Foods
🟩 Million Dollar Bacon Bacon, Maple Syrup, Pepper
🟩 Pickles Dill, Pickle, Brine
🟩 Pot Roast Savory Beef, Gravy, Sweet Carrot
🟩 Ramen Sage, Garlic, Cumin
For Dads
🟦 Dad Time Grass, Water, Dirt
🟦 Dads Workshop Sawdust, Plywood
🟦 Hardware Store Paint Mixers, Wooden Dowels
🟦 Men's Deodorant Spice Deodorant, Cotton
Unique
🟪 Cedar Cashmere Cedar Wood, Velvet Musk, Wool
🟪 Interstellar Ethyl Formate
🟪 Sunday Newspaper Newspaper, Dried Ink
🟪 Thoroughbred Saddle, Dirt, Hay, Carrots
Cologne
🟫 Caribbean Mahogany Mahogany, Sandalwood
🟫 Gent's Teakwood Mahogany, Teakwood, Musk
🟫 Ninja Ancient Oud, Tonka Bean
🟫 Sexy Beast Bergamot, Musk
Outdoorsy

⬛️ Bonfire Smoky Driftwood
⬛️ Fishing Lake Water, Mountain Air, Trees
⬛️ Hiking Trail Dry Dirt, Wildflowers, Bark
⬛️ Lumberjack Flannel, Spices, Musk
Materials

100% All Natural Vegan Soy
Premium Fragrance

Lead-Free Cotton Paper Wicks
Recyclable Clear Glass
Metal Lids
Shipping

◾️ Free Standard Shipping USA Orders
We ship every day Monday - Friday
Most standard orders ship within 72 hours.
Select your shipping speed at checkout.
Our shop has a $15 order minimum.

◾️ Rush Orders Jump the Queue
Rush orders are shipped within 24 hours*

*Not including orders placed after 9am MST on Saturdays. The United States Post Office closes at 12pm.

◾️ Hot Climate Shipping
A signature confirmation means your package will not be delivered unless you can sign for it. No more melted candles! This shipping option is recommended for AZ, NV, TX, and some FL residents. You know who you are.

◾️ Global Shipping
International First Class Postal Service is available for select countries for an additional cost. This shipping option can take up to 10 weeks for delivery. Please be patient with the current state of world affairs as affected by covid19.**

**customers are responsible for covering any fees, taxes or customs for goods imported into their country. Dio candle company is not responsible for any lost or stolen packages. All tracking updates outside the initial shipping notification should be directed to your country's local post. We apologize for the inconvenience, but we do not ship to Russia or Brazil.

◾️UK + EU CUSTOMERS

We do not collect VAT, our packages are marked as DAP:

Delivered At Place

 

(DAP). This term indicates that the seller only takes responsibility for shipping the product, and requires the customer to pay any import costs, such as VAT, duties, and clearing fees. 
Returns & Exchanges

Our Goal is 100% Customer Satisfaction

We get so few returns that we handle each one personally over email. Simply email us to start a conversation about your return: Contact Us

We want you to be happy with your purchase! Any unused candles and wax tarts can be returned for their purchase price but may be subject to a 25% restocking fee at the discretion of Dio Candle Company. Restocking fees are determined on a case by case basis to cover the return shipping costs. 

If your order arrives damaged in any way, contact us immediately with photos of your products for damage claims with USPS.

Personalized items such as custom orders or wholesale orders are final.

Freebie items are included for tiered pricing, any items returned that reduce the tier pricing will be adjusted with a prorated amount. 

Subscription sales, once shipped, are final. Any damaged candles will be replaced by Dio Candle Company.
Size & Burn Times

1oz Candles are approximately 2" tall and will burn for 11-15 hours each.
Repurpose or Recycle

Please repurpose our glass jars or recycle them. Glass is a renewable resource that retains and maintains heat best for dispersing fragrance without the toxic release of metals found in tin containers!
View full details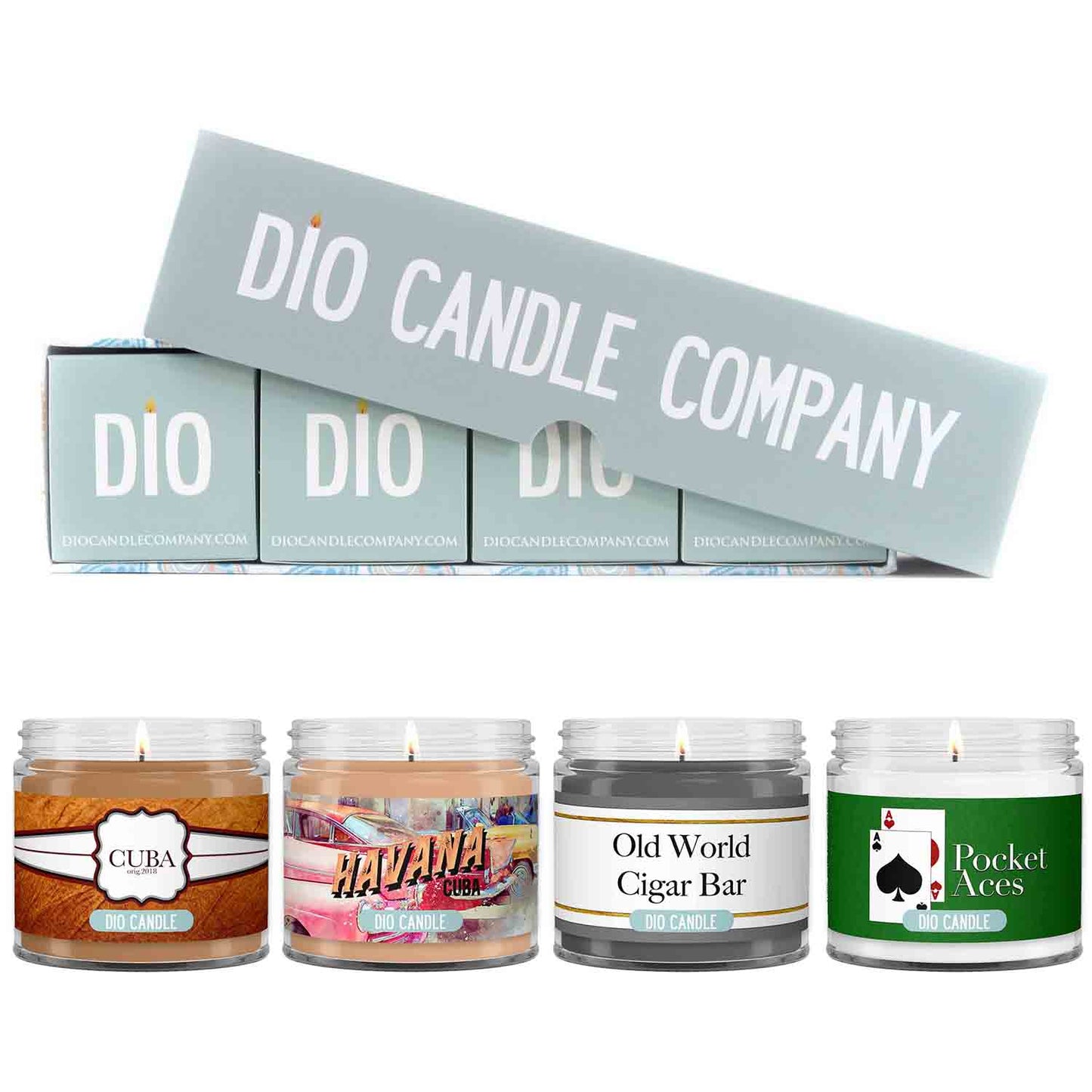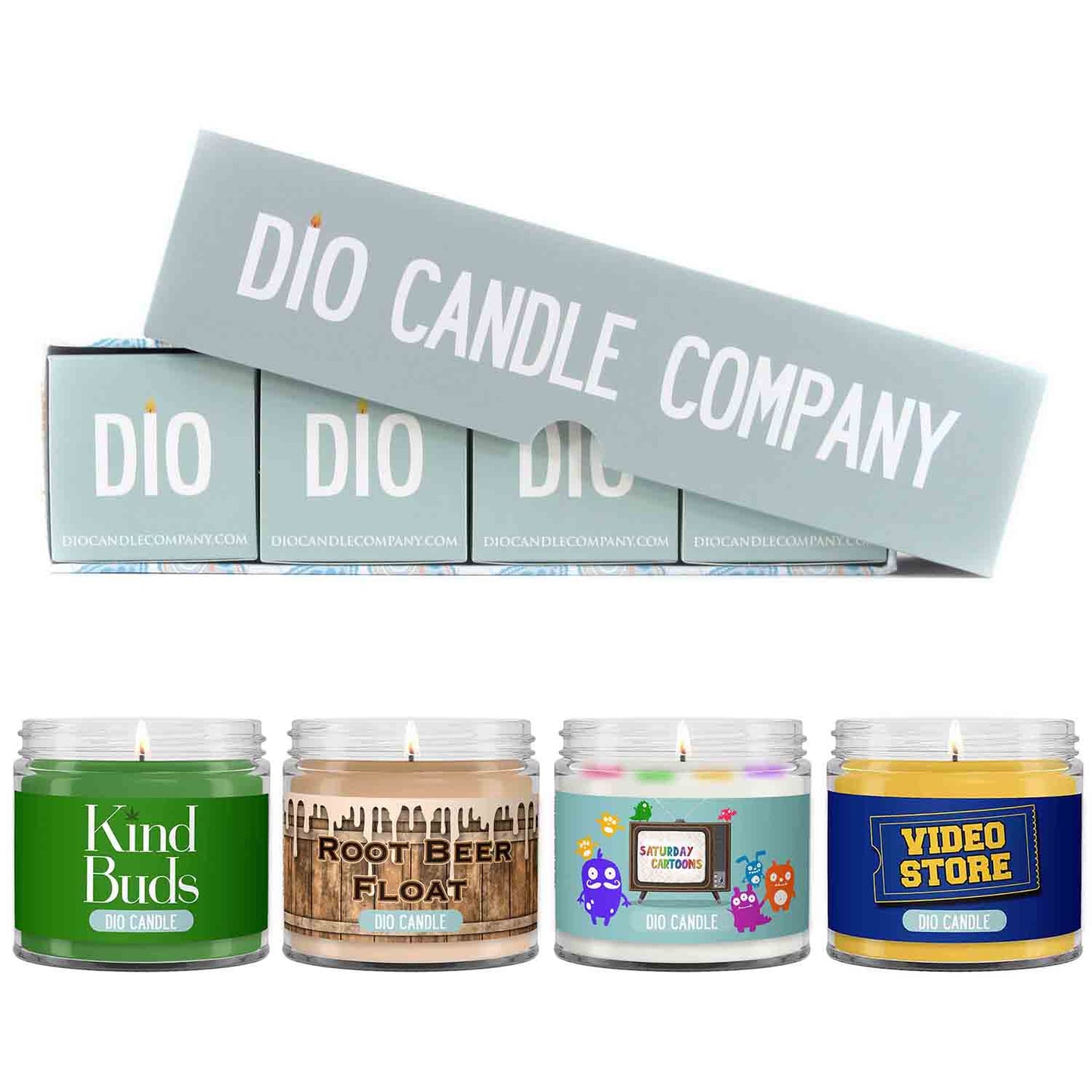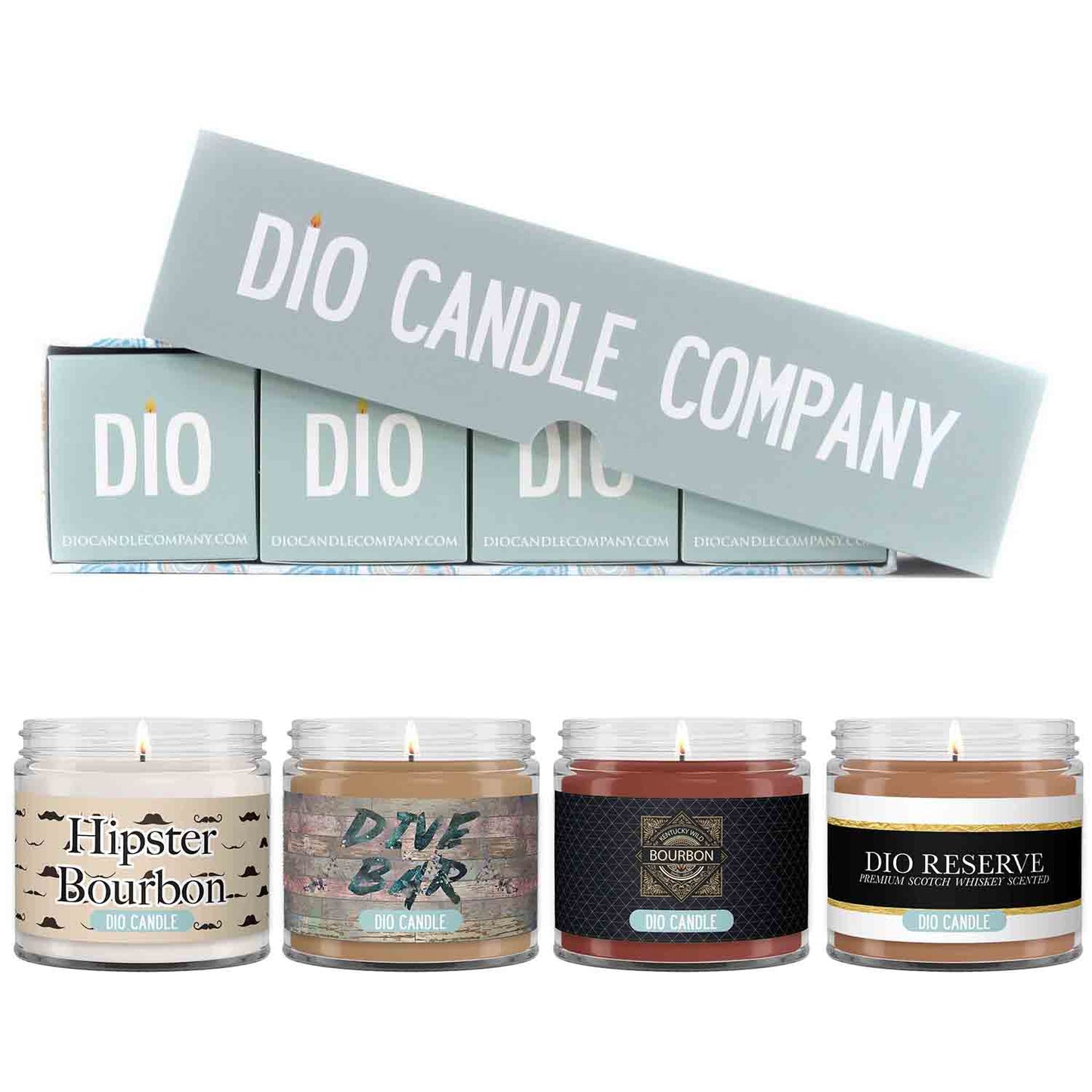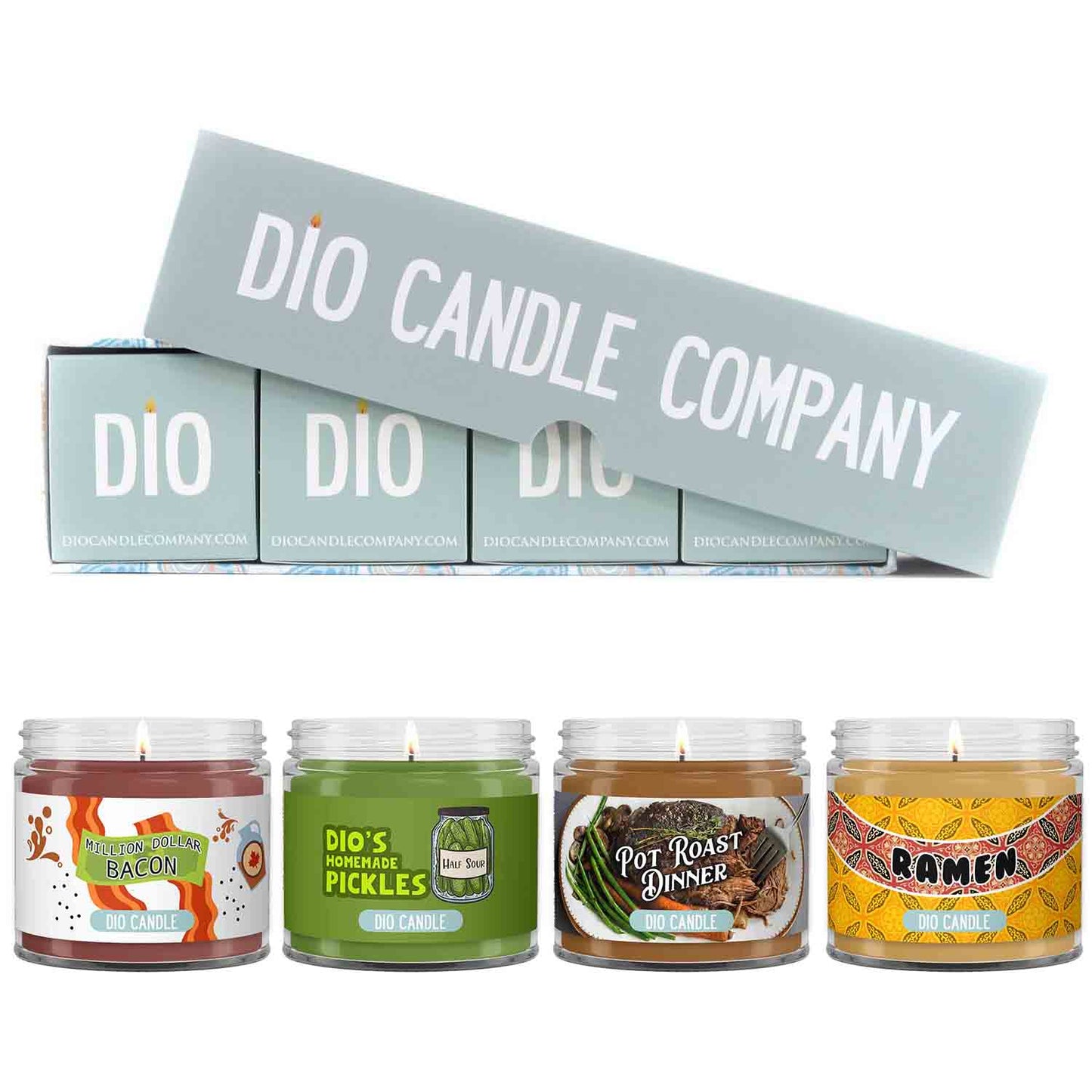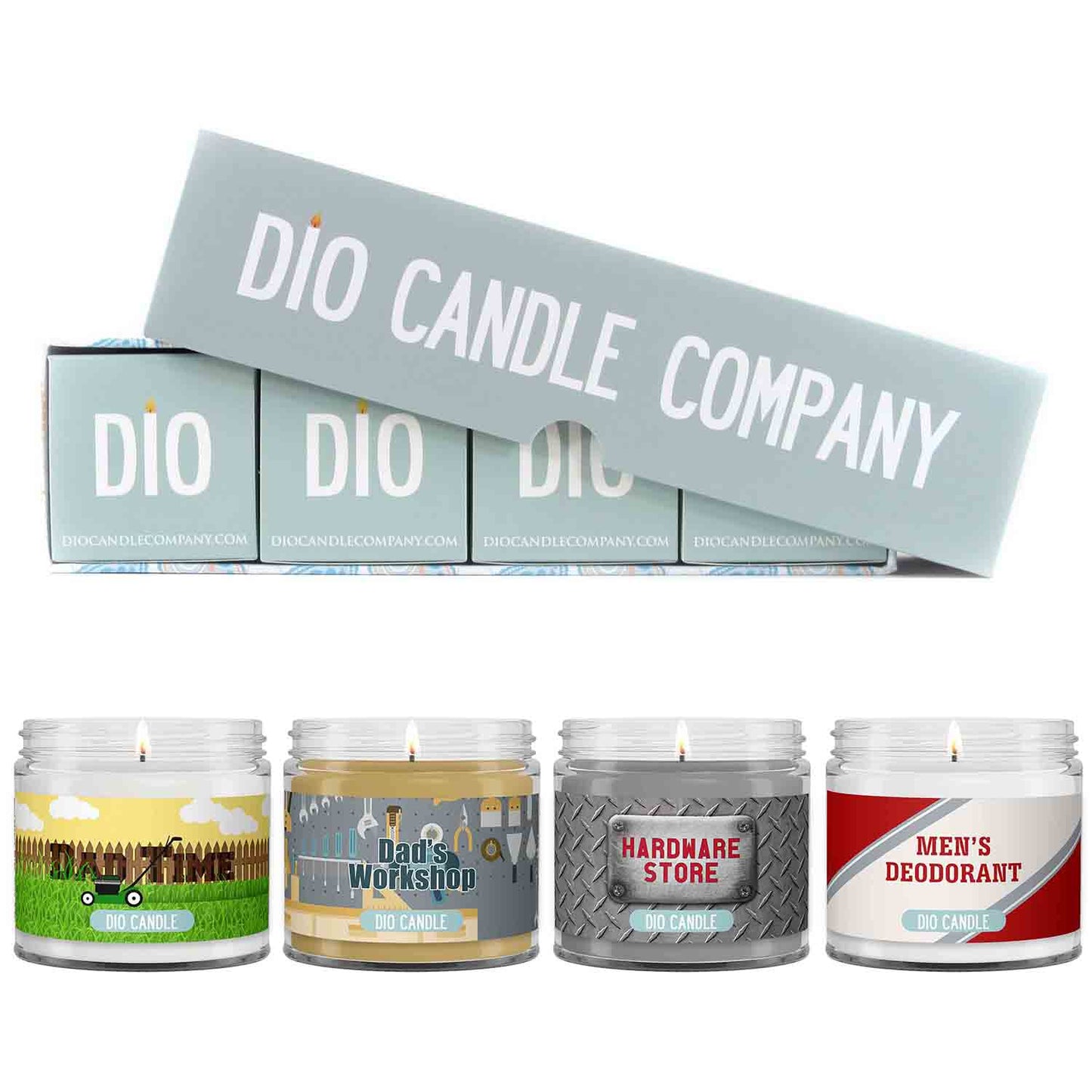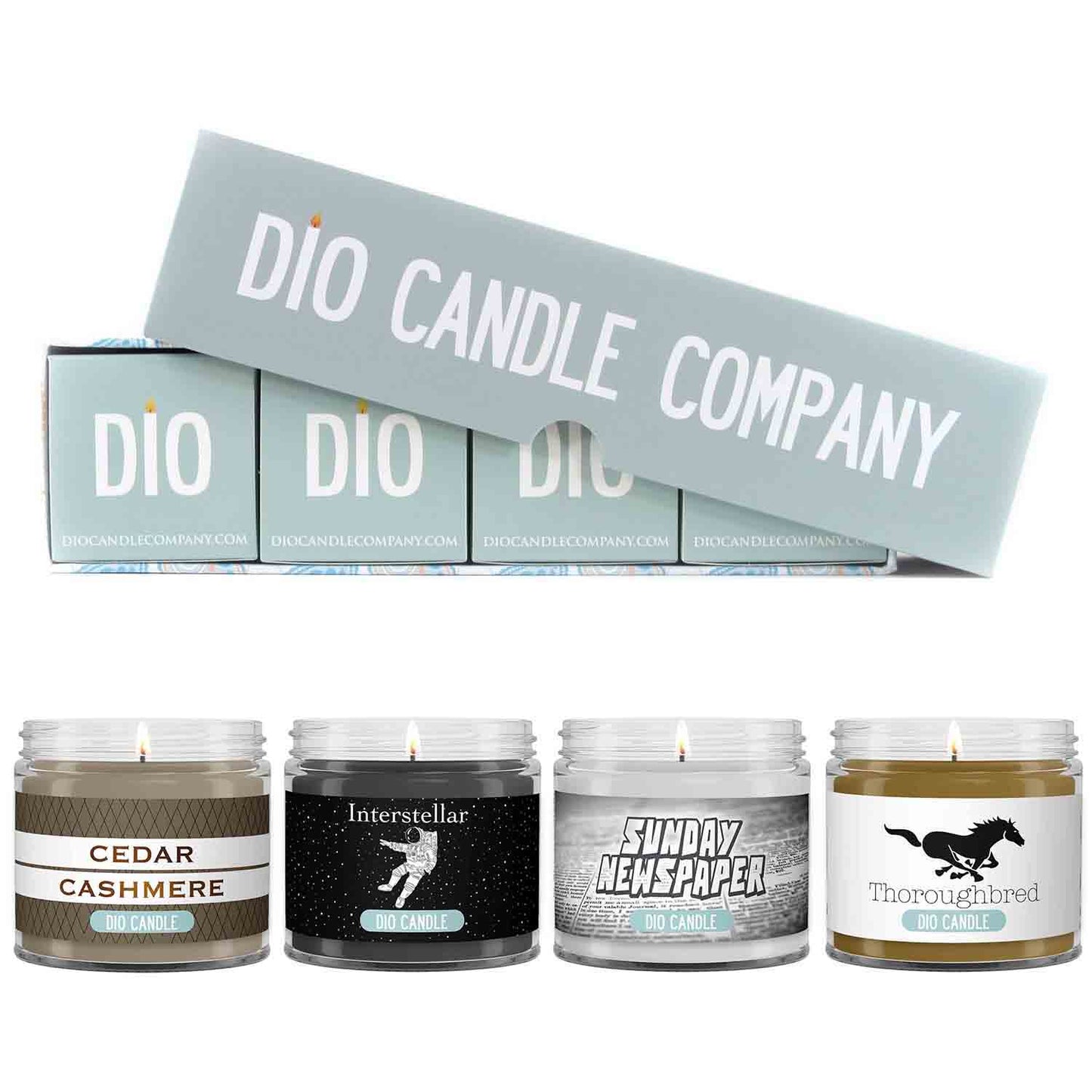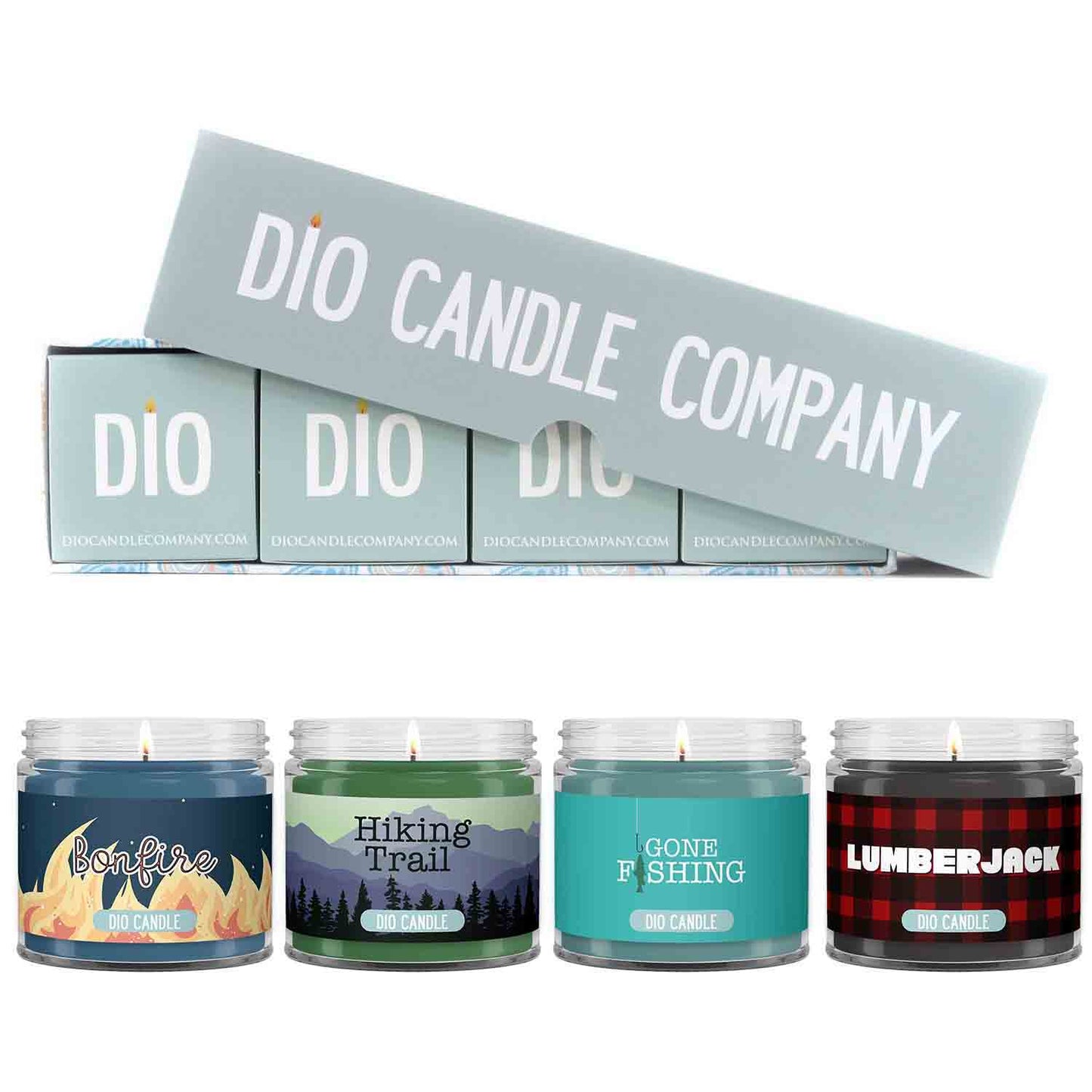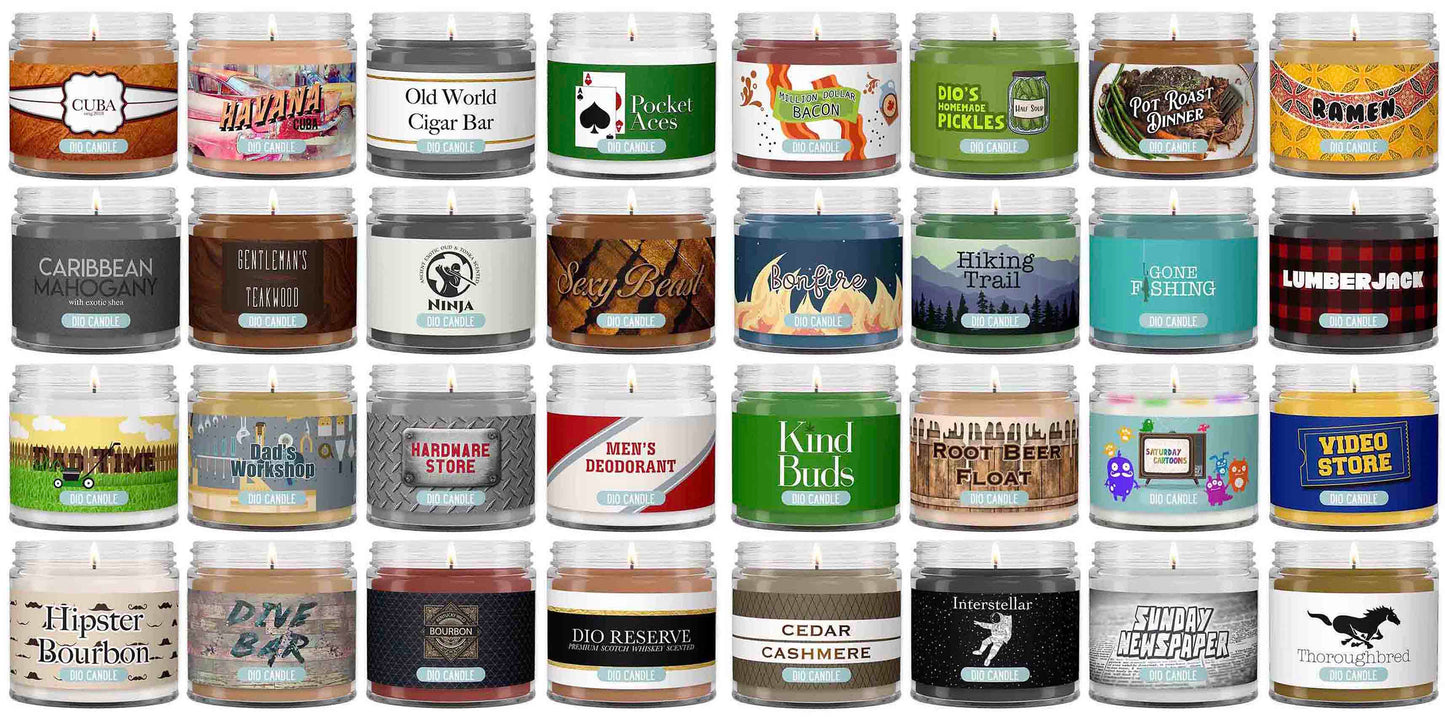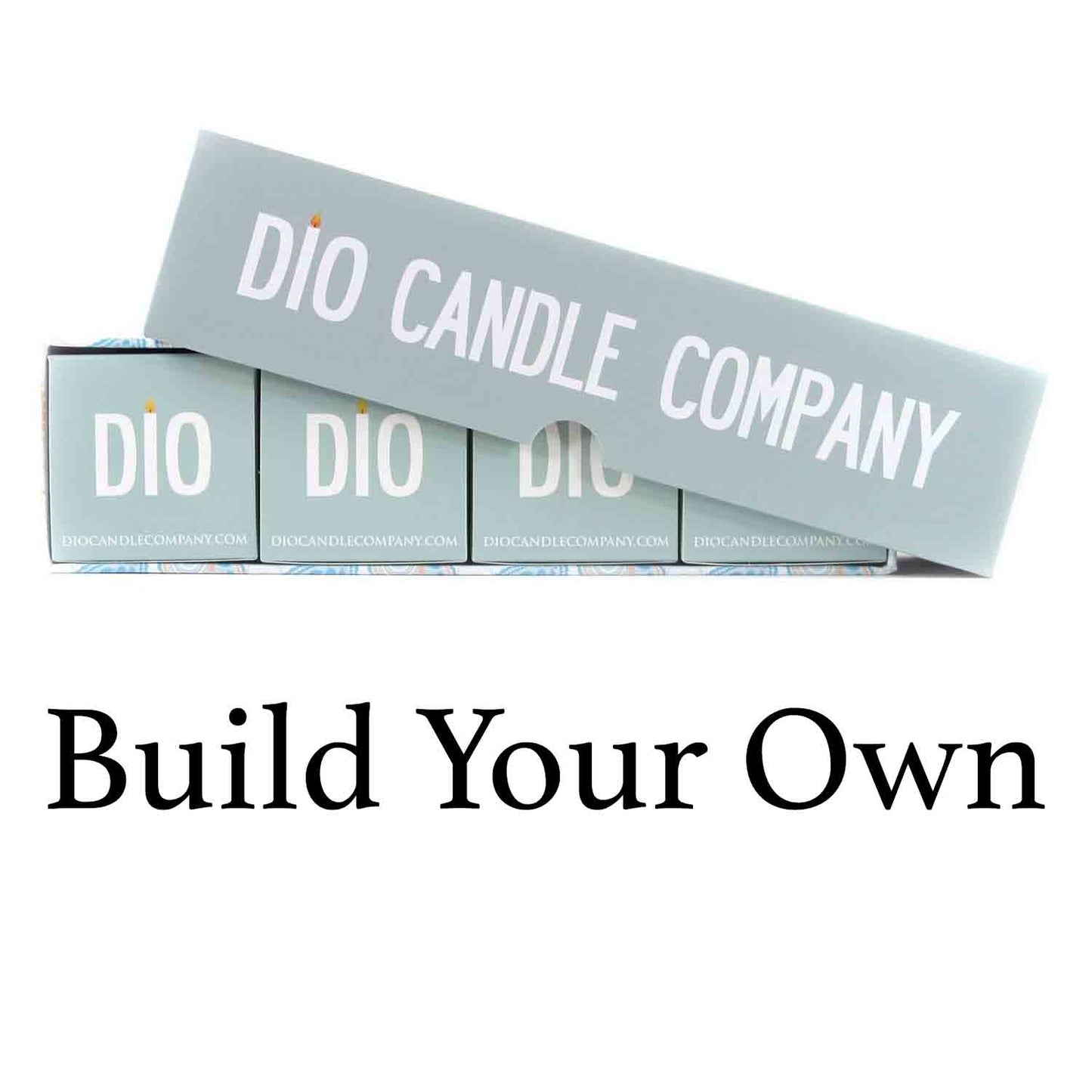 Smells that bring back memories.
Wonderful and long lasting candles. Fragrance that transports me back to happier memories. I light these everyday and relax. Thank you.
Awesome Sauce!!!
I haven't even seen my candle yet but I'm in love with the customer service from this company!!!
I will for sure be reordering.
Will Make the Best Father's Day Gift!
I absolutely love these candles! The gorgeous box they come in is so well designed and really looks nice. Also, each candle comes in its own box with extra padding, as well as a brief description of each candle's scents. I love each of these scents so much. I chose Rootbeer Float, Dad Time, Hiking Trail, and Gone Fishing, all of which spoke to specific memories I've shared with my dad. Each of these scents matched their names to a T! I know I'm going to get some smiles and I'm sure some stories out of giving this gift. So excited to share!!! I would highly recommend these small adorable candles as little but powerful gifts!
Awesome
Bought these as a fun gift for friends. They are great and smell exactly as expected.
These smell amazing and are so cute thank...
These smell amazing and are so cute thank you!!
This review has no content.
This review has no content.
This review has no content.
This review has no content.
I love these adorable candles!
I love these adorable candles! They have a great scent throw even for their size. My customer service experience was exceptional! I ended up having some shipping issues and everything was taken care of right of way. If you are hesitant on buying because of the size you will be pleasantly surprised!
These candles smell amazing, especially Th...
These candles smell amazing, especially The Beast.
Handmade With the Finest Ingredients
100% Naturally Vegan Soy and Premium Fragrance Oils